Featured News - Current News - Archived News - News Categories
Thunder on The Niagara Event 2017
by City of North Tonawanda
Tue, Jul 11th 2017 10:00 am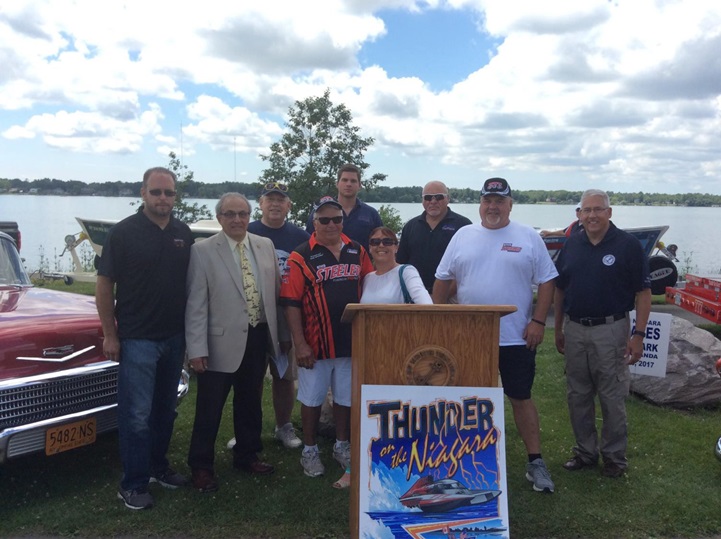 NORTH TONAWANDA-North Tonawanda Mayor Arthur G. Pappas announced during a press conference today that Snyder Industries will present the Thunder on the Niagara boat racing event as it celebrates its 1th year at Gratwick Riverside Park. Snyder Industries will be the key sponsor for this year's event, while the Niagara Frontier Boat Racing Association (NFBRA) will be partnering with the Hydroplane Racing League (HRL), formally called the American Canadian Hydroplane Association (ACHA). These organizations will have over 70+ race boat teams participating in the series event. The hydroplanes are high-performance boats that fly and
thunder over the water at speeds up to 170mph. The event, considered "the fastest show on water," will take place on Saturday, August 5th and Sunday, August 6th at what is regarded as
one of the most beautiful venues along the Niagara River - Gratwick Riverside Park.
Representatives from the Niagara Frontier Boat Racing Association and several high-level North Tonawanda officials joined Mayor Pappas in announcing this family-fun event which is the largest free motor sport event in the area. "This popular event has been drawing thousands of people to Gratwick Riverside Park since 2006," stated Mayor Pappas. "This is a beautiful venue with access to the mighty Niagara River and we are proud to be the host city for this annual family-fun summer event."
The NFBRA announced the participation of food vendors and crafters and the continuation of both new attractions from last year; the car show hosted by Buffalo Motorama, again taking place on Saturday, as well as the return of members of Frontier Skydivers I nc. showcasing their
talents with an American/Canadian theme. The skydiving team is scheduled for a Noon jump on Sunday, August 6th this year.
The park opens each race day at 8am with the first race beginning approximately 9am. Parking will be available at Gratwick Riverside Park for a $10 donation that will include a race program. A portion of the proceeds of the parking fee will benefit Twin Cities Community Outreach.
Attendees are asked to enter the park using the Ward Road entrance. Additional information can be found on Facebook at https://www.facebook.com/Thunderonthenia gara20l 5.
###